BOSTON GLOBE SATURDAY JUNE 10,1995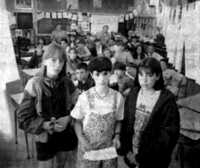 QUINCY - The April Murder of Pakistani human rights activist Iqbal Masih, 12, a former child slave laborer, suddenly made the vigorous letter-writing campaign of Broad Meadows Middle School students denouncing child labor seem insufficient..
Last month, Broad Meadows seventh graders took their human rights activism to a new level when they decided to honor the memory of the slain carpet maker with his own dream: raising money to build a schoolhouse in Muridke, Masih's village in Pakistan.
For these 12- and 13-year-olds, Masih is not simply a distant hero who gained international acclaim by high lighting the horrors of child labor. In December, a week before he received Reebok's Youth in Action Award in Boston, Masih visited Broad Meadows, which was chosen by Reebok because of its activist students.
"Iqbal told us his dream was to have a school in his village and that every child should be free and educated," said Amy Papile, 13, one of the students who first had the notion of building the school. "He had a blue pen and a carpet tool in his hands. He held the carpet tool up and said, 'This is not the tool children should have."'
As Papile and her schoolmates quickly learned, it is one thing to float a visionary idea, but quite another to set it in motion. How can young students like them raise that much money? How do they get the money to Pakistan? How do they make sure it is used for the school, and who will oversee the project there?
"People tell us we won't be able to do this, but you do what you can to achieve your goal," said Amanda Loos, 13, another organizer of the project. "His death made me very sad, but we had to act."
With the help of their teachers - Ron Adams, who teaches language arts and human lights, and; Donna Willoughby, who teaches social studio the students we have taken their fund-raising campaign just two weeks old, national through email via the Scholastic Network in New York City, the nations largest computer on-line system for students and teachers:
According to the network Broad Meadows was in contact with middle Schools in at least 22 states with in 10 days. The students also have opened an account at The Hibernian Savings Ban in Quincy. They have asked classes to donate at least $12 - the amount Masih's father apparently received for selling his son into slavery to pay a family debt.
The students also have written to Sen. Edward M. Kennedy as well as Pakistani officials, including Prime Minister Benazir Bhutto, about the project. The students plan to work with Amnesty In:ternational and other agencies to transfer money to Pakistan and get the project under way.
In a statement yesterday, Kennedy said he intended to contact Bhutto to expedite the school project. "A school in [Masih's] name in Pakistan will be a beautiful and fitting memorial and an enduring reminder of the great cause he brought to the world?s attention," Kennedy said.
When he was 4 years old, Masih was sold by his parents to a carpet manufacturer in a form of indentured servitude. He worked under horrific conditions, often being chained to a loom with other children, until he escaped at age 10. At an International labor conference in Sweden last December, he spoke about'the conditions that child workers face.
In Boston, he said he planned to put his $15,000 Reebok prize money toward becoming a lawyer, and Brandeis University in Waltham made him a standing offer of a full scholarship when he was ready for college.
Masih was shot to death Easter Sunday outside of his grandmother's home in Pakistan. No arrests have been made, but many suspect that supporters of the carpet industry were involved.
For the past week, Broad Meadows student have monitored their e-mail box for messages from schools nationwide. Yesterday they received word from Portage Path School of Technology in Akron, Ohio, that students there had raised $150 and were sending a check. Schools in Maine, Michigan, California, and Connecticut also are collecting money.
Adams said some of the students plan to wok at the school this summer to monitor e-mail and keep reports. Also, Papile and Loos are set to speak about the campaign before 2,000 people at Amnesty Internation June 23 meeting in Boston.
The healthy seventh graders recalled the feel of Masih's tiny, calloused hand as he shook theirs during his daylong visit and how years of malnutrition had stunted his growth so that the top of his head barely reached their shoulders.
"He was our age, but he was so small and never had a childhood," said Jenn Grogan, 13. He made me feel how privileged we are and how lucky we are to be free and in school."
Fund-raising details to be on the Internet
The Broad Meadows Middle School fund-raising campaign will go global by the end of June with the help of Mirror Image Inc., a Cambridge T-shirt printing company, and members of Amnesty International, who will create an Iqbal Masih home page on the Internet's World Wide Web and teach the students about the web site. The Iqbal Masih site will be:
http ://mirrorimage.com/mirror/iqbal.html
Donations can be sent to:
A School for Iqbal Masih Fund
c/o The Hibernian Savings Bank
Quincy High School Branch
731 Hancock St.
Quincy, MA 02170




---
Material designed and copyrighted by

Mirror Image, Inc. and Broadmeadows Middle School
Questions or problems to report about this web site? Contact the Webmaster at webmaster@mirrorimage.com