The Boston Sunday Globe April 30, 1995
Slain Pakistani child crusader honored
by Pamela M. Walsh Contributing Reporter
Scrawling messages with brightly colored pens and paints on the long white construction paper laying in Copley Square yesterday, Greater Boston youths promised to never forget the work of Iqbal Masih, the 12-year-old Pakistani children's rights activist who was slain April 9.
"Iqbal, we'll keep on fighting," and "Iqbal's dream will live 4-ever," were some of the messages left by members of City Year's Young Heroes programs.
Iqbal's dream was that no other child would suffer the way he did.
Given over to a rug manufacturer at age 4 because his parents could not pay a debt, Masih escaped at age 10 and then set out to help free other children chained to looms across his country. For his work, Reebok awarded him its Youth in Action Human Rights award in December.
After dedication a day of service in Masih's memory, the members of Youth Heroes - 90 eighth-graders from across the city who pledged 11 Saturdays to community service - gathered at Copley Square to place items in a time capsule, which is to be opened at Reebok's Human Rights Ceremony in 2005.
The time capsule was filled with items that "symbolized human rights violation," particularly against children, "which when Reebok opens it in 25 years, hopefully will not exist," said Eddie Kleinhans, the event's master of ceremonies and a member of City Year, the youth service corps.
The youngsters offered up a variety of items, including an amendment to the US Constitution that would forbid discrimination based on sexual preference and literature on AIDS.
The Young Heroes volunteers were divided into nine teams, each with a name remembering an award winner or an event that symbolized human rights violations. The Young Heroes, along with some visitors for the day performed 400 hours of community service yesterday in nine sites across Boston, said Heather Ehlert, one of the organizers.
A blank notebook was added to the capsule by members of the Tiananmen team, symbolizing the student protest that ended in bloodshed in Beijing's Tiananmen Square in 1989.
"The blank notebook symbolizes our hope that all peoples will have the freedom to speak and write as they please," Daniel Hartnett, 15 of Dorchester, said.
Students from the Broad Meadows School in Quincy, where Masih visited during his December trip, added a mock law degree for what "Iqbal would have been doing in the year 2020."
On his visit, Masih said he wished to become a lawyer, prompting Brandeis University to offer him a full scholarship whenever he was ready.
During the human rights awards ceremony, Masih proudly held up a pen, proclaiming that he wanted the pen to "replace the instruments that are used to torture young child laborers," such as the needles they used to make carpets in Pakistan, said Zoe Aponte, manager of public affairs for Reebok, before adding the pen to the mahogany box.
One item didn't make it into the capsule, however , just as it didn't make it to Masih.
In a frame, along with a letter, was a pen that Carlton McClendon, a retired furniture manufacturer, asked Martin Emmanuel of City Year to give to Masih after hearing Masih's story. The letter and pen will be displayed in an undetermined location to remind others of Iqbal's story, Emmanuel said.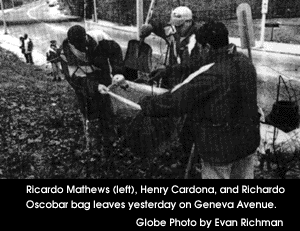 ---
Material designed and copyrighted by

Mirror Image, Inc. and Broadmeadows Middle School
Questions or problems to report about this web site? Contact the Webmaster at webmaster@mirrorimage.com