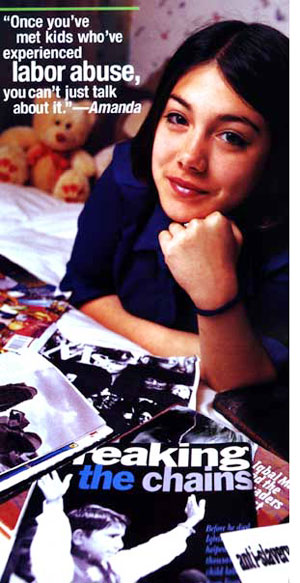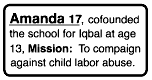 In the U.S. to receive a human-rights award in 1994, a 12-year-old Pakistani boy named Iqbal Masih visited Amanda Loos' junior-high class and told the story of how his parents had sold him into slavery when they couldn't repay a loan. A few months after Iqbal spoke, 13-year-old Amanda and her classmates learned that upon his return to Pakistan, the boy had been murdered for speaking out. "Suddenly it hit me that not every country is like the U.S., that there are kids around the world going through harder times than we ever will," says Amanda.
Amanda and her classmates had a meeting and decided to e-mail all the junior highs they knew, telling them what had happened and asking for a $12 donation per classroom. They explained that they planned to fund the building of a schoolhouse in Pakistan: Iqbal had told Amanda's class that one of his biggest dreams was ensuring that children all over the world could get an education, since that's something he and other poor children in Pakistan are consistently deprived of. "If we'd only read about him, we might not have done anything to help," says Amanda, "But he'd stood right in front of us, with this inch-long scar above his right eye from where he'd been beaten for working too slowly."
Their goal was to raise $10,000-but word spread around the country, and eventually the class raised $150,000. In 1996, a five-room schoolhouse, which doubles as a community health center, was built in Kasur, Pakistan, near Iqbal's hometown. The kids' organization also launched a program that provides loans to Pakistani women to buy back their children from slavery.
A few months before the schoolhouse was completed, Amanda testified before Congress about her knowledge of child laborers. She also took two months off during her sophomore year in high school so she could join the Global March Against Child Labour, an international crusade, and she was flown to Geneva, Switzerland, by UNITE, the garment-workers union, where she spoke out against child labor. "Once you meet kids who've been through this, you can't just talk about it," says Amanda. "You have to go out and do something." - C.R.