Quincy Sun, Thursday, April 27, 1995
Students Hold Petition
Drive In Memory Of
Slain Pakistani Boy

Broad Meadows Middle School students recently collected signatures to be sent to the Pakistani government calling for an investigation of the murder of 12-year-old civil rights activist who visited the school in December.
Iqbal Masih of Pakistan was gunned down Easter Sunday while riding his bicycle near his grandmother's home in his native country. He had become a civil rights activist after escaping slavery from the carpet industry there at age 10. His parents had sold him into slavery six years earlier.
Iqbal traveled around the globe speaking to people, including the United Nations, about the injustices done to children in his country. Authorities suspect that carpet industry officials gave orders to have the boy assassinated.
Broad Meadows students, who were horrified by the Iqbal's story in December, were equally stunned by his death. They decided the petition drive would be a good way to keep his memory alive and to keep authorities interested in the case.
Another student at the school, Amy Papile, has written letters to government and local carpet industry officials about the murder. Among the responses she received were from Sen. Edward Kennedy and Michael Sokolowski, president of Newton Oriental Rugs in Newton.
"In the past Congress, I was a sponsor of the Child Labor Deterrence Act, whose purpose is to protect children from exploitation by preventing their employment in the production of goods for export," Kennedy wrote. "The bill would have banned such products in the U.S. market and would have encouraged other nations to join in such a ban.
"Unfortunately, that legislation was not passed by Congress in 1994, but I continue to support it, and I hope that it will be adapted by the new Congress."
"It is wonderful to see a young person caring so much about others," wrote Sokolowski. "To reply to your concern, Newton Oriental Rugs has people in the countries check to make sure that the rugs we receive are made by ethical work standards."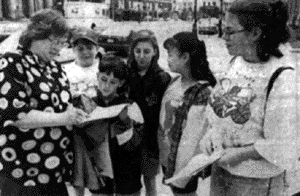 Broad Meadows Middle School students recently held a petition drive in memory of slain 12 year old civil rights activist Iqbal Masih of Pakistan. Iqbal, who visited the school in December, was gunned down while riding his Bicycle in his native country Easter Sunday. From left, Margaret Harter of North Quincy signs for students Steven O'Hare, Brian Papile, Tara Pezzulo, Ying Duona, Kelly Mullen.
Quincy Sun Photo by Tom Gorman

---
Material designed and copyrighted by

Mirror Image, Inc. and Broadmeadows Middle School
Questions or problems to report about this web site? Contact the Webmaster at webmaster@mirrorimage.com