USA Today
Tuesday, June 27, 1995
Students work to honor slain activitst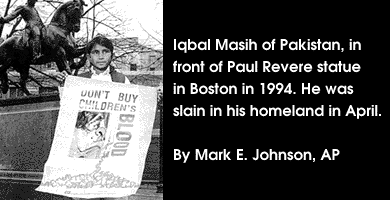 by Eva Bekler
Photos by Mark E. Johnson, AP
A group of Massachusetts seventh-graders, touched by the death of a 12-year old Pakistani child slave and humanrights activist, are raising money for a school in the boy's native village.
Iqbal Masih, who Amnesty International officials say, was sold to a carpet factory at age 4 and worked chained to a loom, escaped and became an advocate for thousands of child workers in Paldstan's carpet industry.
Seventh-graders at Broad Meadows Middle School in the Boston suburb of Quincy met Masih when he visited the U.S. last December to receive a youth human-rights award.
On April 16, the boy was shot near his village. Amnesty International says Masih had received death threats in the months before his killing and has urged the Pakistani government to investigate.
On hearing about Masih's death, students at Broad Meadows decided to start a fundraising campaign among middle-school students nationwide to build a school in Pakistan in his memory.
"His dream was that all children should have an education and be free," says Amy Papile, 13. "Currently, there isn't a school in Iqbal's village. We want to build one, so his dream will be fulfilled."
The 102 students are contacting others from Maine to California using the Scholastic Network, an educational computer link, says Ron Adams, Broad Meadows teacher.
Each school is asked to donate $12¬the amount symbolizing Masih's age when he died and the $12 paid to Masih's father for his son.
Since the campaign started May 19, 74 schools have responded, donating more than $2,000. Word has spread to elementary and high schools and inquiries have been steadily coming by letter or e-mail (RonAdams2@aol.com).
Amnesty International has helped the students set up a site on the World Wide Web, the global computer network, making the campaign accessible to computer users around the world. The site is called "A Bullet Can't Kill a Dream: A School for Iqbal Campaign." (http:// mirrorimage.com/ mirror/iqbal.html)
Broad Meadows students made the opening speech at Amnesty International's national convention Friday in Boston.
The campaign will continue until December, and students are taking turns monitoring the responses received on the Net during the summer. The goal is $5,00 1, enough for a one-room school building in Pakistan, Adams says. If the campaign raises a larger amount, the money could be spent on books and other teaching materials.
Adams and the students have contacted their senator, Edward Kennedy, D-Mass., whose staff says he is drafting a letter to Pakistan's prime minister, Benazir Bhutto, to help expedite the project
The senator is also talking to various non-profit organizations to determine which would be willing to supervise the building of the school.
After Masih's death, 32 members of Congress, including Kennedy, wrote Pakistan's prime minister to express concern about child labor.


---
Material designed and copyrighted by

Mirror Image, Inc. and Broadmeadows Middle School
Questions or problems to report about this web site? Contact the Webmaster at webmaster@mirrorimage.com