1. Former Broad Meadows Middle School student/School for Iqbal campaign leader Mai Pham, 17, one of two youth representing the US in INDIA, marching against child labor at the 2nd Children's World Congress organized by The Global March Against Child Labor.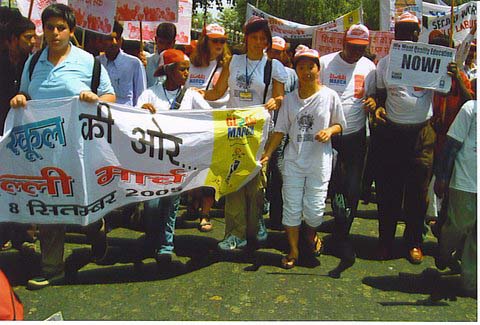 2. Broad Meadows students Kristen and Tom are guest speakers in WASHINGTON, DC, at the American Federation of Teachers/National Education Association Teacher Workshops on Child Labor organized by ICCLE. www.iccle.org/newsletter_children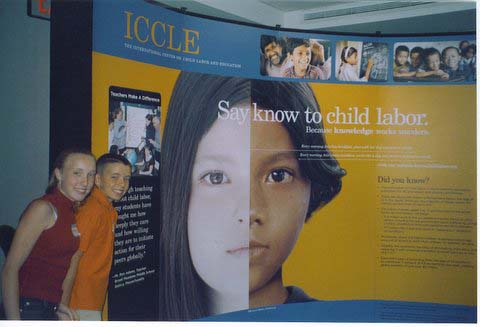 3. Working together to end child labor: students from the Broad Meadows Middle School traveled to the Isaac Young Middle School in New Rochelle, NY, to partner with the NY students to take action against child labor.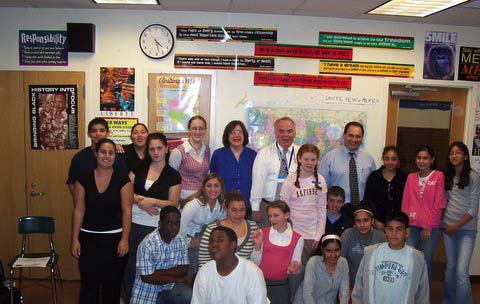 4. Speaking out against child labor in SCOTLAND: Former Broad Meadows Middle School students Mary, Laura and Elizabeth making a multi-media presentation at the World Youth Congress in Scotland.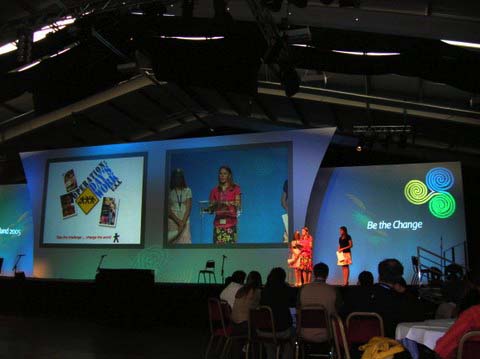 5. Current Broad Meadows students using laptop technology to spread the word about ways to educated children like Iqbal Masih. The laptop was donated by author/activist Danny Siegel. The School for Iqbal web site is donated, maintained and hosted since 1995 by the wonderful President (Rick Roth) and union employees of Mirror Image in Rhode Island. www.mirrorimage.com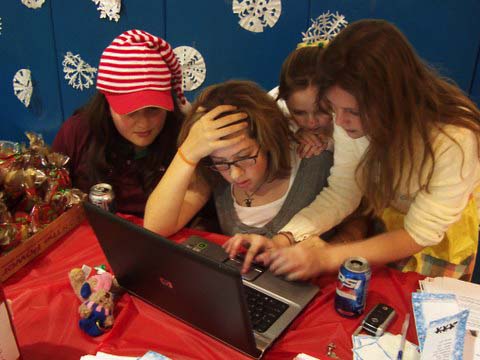 6. Don't be a hypocrite! Current Broad Meadows students raise money to educate children like Iqbal by selling only products GUARANTEED to be child-labor-free and sweatshop-free. Equal Exchange (Canton, MA, USA) donated child-labor-free hot cocoa mix. It warms your heart to drink it. www.equalexchange.com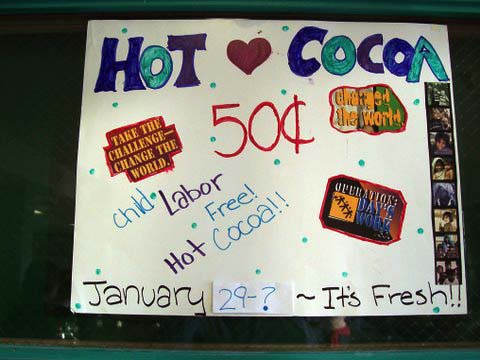 7. Shop with a conscience! Broad Meadows students annually visit their area's largest shopping mall to interview every one of the 104 store managers to find out "Can you guarantee that all of the items you sell are NOT made or picked by children?" www.aft.org/topics/international/child-labor/news.htm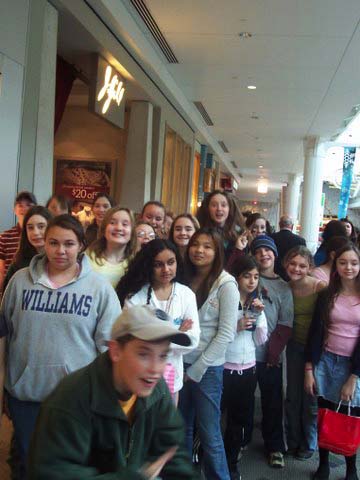 8. A new book was just published which tells the story of former Broad Meadows Middle School "School for Iqbal" campaign spokesperson Elizabeth Bloomer and her activism for children like Iqbal. The book is called Elizabeth Bloomer: Child Labor Activist. The author is Jennifer Reed. You can buy it at Amazon.com (In the photo, a young student stands by Elizabeth at a recent book signing) www.amazon.com/Elizabeth-Bloomer-Child-Activist-Heroes/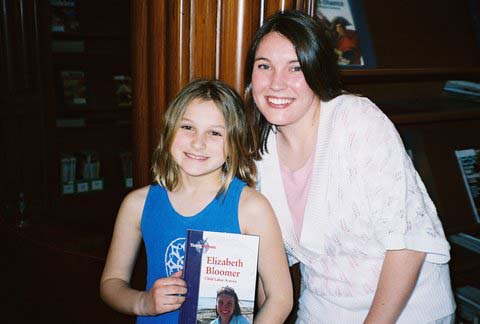 9. An elected team of Broad Meadows Middle School campaign leaders were invited by the Weston, MA Parent Teacher Organization to make a presentation for the entire grade 6 class at Weston Middle School. The event was held at Regis College in Massachusetts. (The photo shows the team presenting ways to fight child labor.)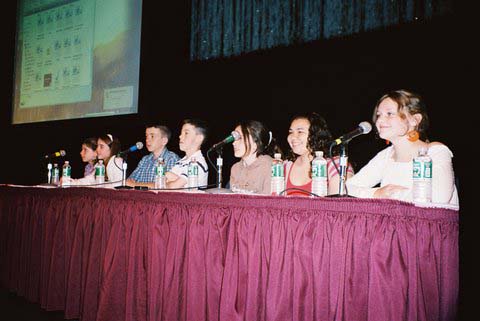 10. From the archives: Peggy Simon, the wife of former U.S. Ambassador to Pakistan, is a huge supporter of the "School for Iqbal" in Pakistan. (The photo shows Mrs. Simon on one of her many visits to the School for Iqbal in Pakistan. )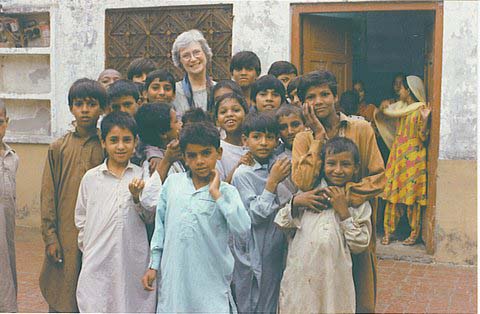 11. From the archives: a photo of Iqbal Masih visiting the Broad Meadows Middle School in December 1994. (The photo shows Iqbal surrounded by Broad Meadows students and teachers.)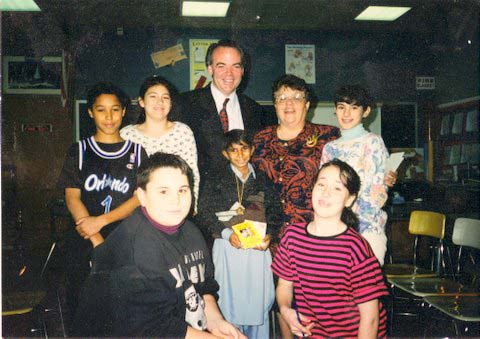 12. Intergenerational teammates against child labor: Legendary child labor fighter Kailash Satiyarthi recently worked shoulder to shoulder with Broad Meadows students Tom and Kristen to help US teachers develop lesson plans for teaching about child labor in their classrooms. www.iccle.org/newsletter_children/0507/index.php3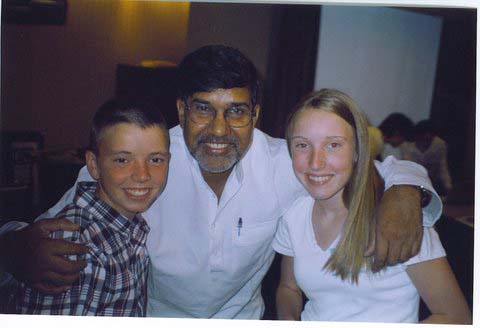 13. Current Broad Meadows Middle School students proudly pose in their EDUN tee shirts. Not wanting to be hypocrites, the Broad Meadows students asked neighbors and supporters to locate a tee shirt company which sold "ethically produced" shirts. Friends at Mirror Image Printers in Rhode Island recommended Edun tee shirts. Edun tee shirts are made child-labor-free, guaranteed. Bono (of U2) and his wife own Edun (nude backwards) and guarantee the shirts are made by African workers who are treated and paid well from grower to sew-er. What are you wearing and how were those pickers and sew-ers treated?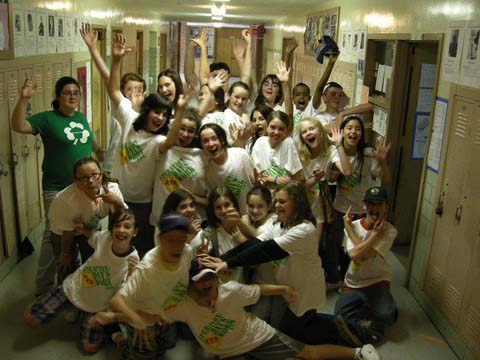 14. Author/Activist Danny Siegel, long time guardian angel of the "School for Iqbal" Kids' Campaign, visits Broad Meadows Middle School and stops to read a corridor poster about Iqbal Masih.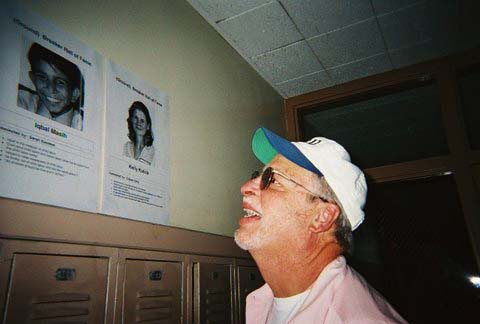 15. Bricks and Bouquets! Current Broad Meadows students continue to keep the original promise made to Iqbal that they would work to help children like Iqbal. Here in the photo, and for 8 years in a row, Broad Meadows students and other US students debate the strengths and weaknesses of education proposals submitted to them by non-governmental organizations each school year. The proposals promise to establish an education project in a developing country. The students vote to fund ONE proposal each school year! http://www.odwusa.org As a result, the young "School for Iqbal" builders establish a school like Iqbal's every school year. The "School for Iqbal" campaign has morphed into "Operation Day's Work-USA." About 14 US schools participate. About 1000 US students joined. Together, Operation Day's Work students are providing freedom, education and a childhood for children like Iqbal in:
Haiti
El Salvador
Nepal
Bangladesh
Vietnam
Ethiopia
Rwanda
www.odwusa.org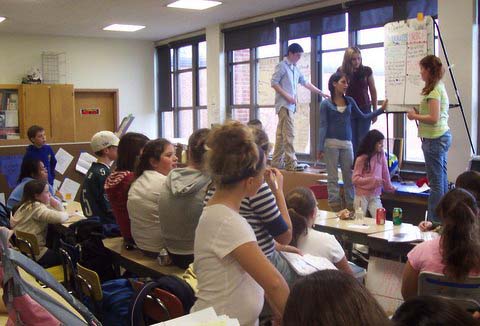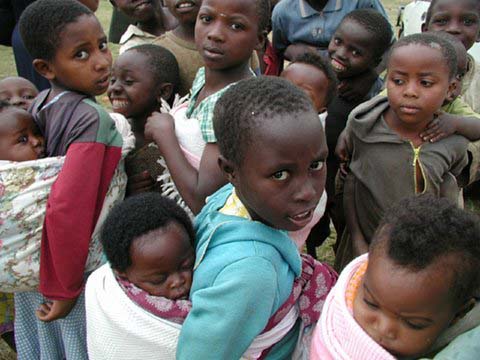 In conclusion, it has been about 12 years since Broad Meadows students created the "School for Iqbal" kids' campaign. Once the "School for Iqbal" was established in Pakistan in partnership with the greatest non-governmental organization ever SUDHAAR, the students involved decided not to retire. Instead, they decided to try to find new non-governmental partners and more US students who wanted to keep Iqbal's dream alive. That's how the Broad Meadows Middle School students co-founded "Operation Day's Work-USA." As you may know, the "School for Iqbal" campaign then morphed into Operation Day's Work-USA (ODW-USA) by the Broad Meadows students and other activist U.S. students so a school like Iqbal's could be built each year in many different countries for kids like Iqbal. www.odwusa.org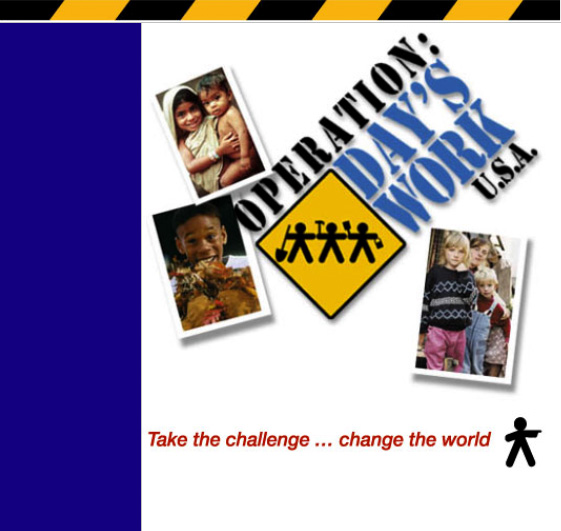 What started with Iqbal's visit to Broad Meadows Middle School continues...
The legacy begun by Iqbal at Broad Meadows continues. Iqbal's dream is alive; all children should be free, have a childhood and an education.
Thanks to all who have helped through the "School for Iqbal Kids' Campaign" and the resulting, ongoing ODW-USA for creating hope, freedom, safety and education for thousands of children like Iqbal Masih in Pakistan, Haiti, El Salvador, Nepal, Bangladesh, Ethiopia, Vietnam, Rwanda, Ghana, and EVERYWHERE.
Thanks to our adult partners such as: the Heifer Project Vietnam; Educate the Children-Nepal; Human Capital Foundation-Ethiopia; Salesian Missions-El Salvador; Volunteers Association-Bangladesh; Chabha-Rwanda and SUDHAAR-Pakistan.
It is amazing what youth can do each school year in partnership with reputable non-governmental organizations. A bullet can't kill a dream.

Mr. Adams
Teacher Advisor
Broad Meadows Middle School
Quincy, MA
USA