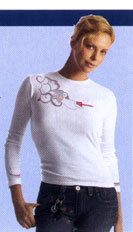 Wearables Wise

Theron Models to Raise Awareness

In October, actress Charlize Theron appeared in a national public-service announcement wearing a 2004 Key To the Cure Silver For Her by Hanes T-shirt. It was part of the women's cancer initiative founded by Saks Fifth Avenue in partnership with the Entertainment Industry Foundation and its Women's Cancer Research Fund.

The limited- addition shirt, designed by Marc Jacobs, was sold at Saks nationwide and on its Web site, October 14 - 17. A percentage of the sales went to local and national breast and women's reproductive cancer research centers.

The 30,000 shirts were imprinted by screenprinter Rick Roth of Mirror Image Inc. (asi/273699). "The shirt looks amazingly feminine" he says. "We're handling each shirt six times to accomplish the print Ñ pretty labor-intensive, but we feel good about being part of a great cause." the six location design has front and back prints on each sleeve, a full front chest and a small back imprint.