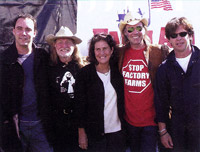 On Saturday Sept. 29th, the sold-out Farm Aid concert crowd scooped up nearly all the shirts donated by Mirror Image and other companies. Among participating musicians and organizers were, pictured lieft to right: Dave Mathews, Willie Nelson, Carolyn Mugar (Executive Director of Farm Aid), Neil Young, and John Mellencamp.
Rick Roth, president, MIRROR IMAGE, Pawtucket, R.I., planned to assemble a coalition of companies at the Screenprinting and Graphic Imaging Association show in Anaheim, Calif., to print T-shirts for the annual Farm Aid benefit concert. Cancellation of the SGIA show in the wake of the Sept. 11 terrorist attacks didn't stop some companies from participating.

Mirror Image decorated 2,200 T-shirts with Farm Aid's ear of corn logo and then donated them to concert organizers. Materials were donated by Hanes, Kiwo, Mirror Image, Majestech, MHM, and Rutland. The shirts grossed around $45,000 for Farm Aid, Roth reports, adding that the industry has a vested interest in U.S. farmers: "All that cotton is grown by somebody."

"The plan was to print the shirts at the show, and companies would get the benefit of that exposer," says Roth. "Some donated anyway and didn't get any (public relations) mileage out of it."

To get involved in future Mirror Image charity projects, call (401)724-5353.

For more information on Rick Roth, recipient of the IMPRESSIONS 2001 Decorator of the Year Award, see page 18.