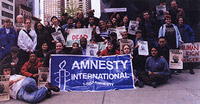 For more than 20 years, Roth has been active in his local Amnesty International chapter (pictured protesting the execution of Ken Saro-wiwa, a Nigerian writer and environmentalist).
---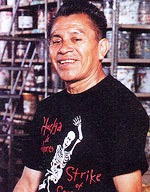 Jose Sotz was a Guatemalan trade unionist whose son was shot and paralyzed. Roth's Amnesty International chapter helped Sotz gain political asylum. Sotz is now a Mirror Image employee.
---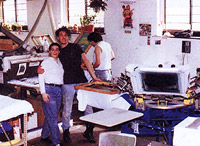 Above: Printers Jessica Bahl, who began working at Mirror Image as a high school student, and Jeff Bright, and singer-songwriter who moved to Pawtucket with the company.
---
Mirror Image frequently prints fine art and photographic-quality nature designs for museums, such as "King Tut" for the Museum of Fine Arts, boston (top left) and a design Roth considers one of their most technically difficult jobs (lower right) for the Museum of Natural History. Among Roth's regular print jobs are the Monkey brand preprint line (top right) and William Wegman photography (lower left, copyright William Wegman Fotofolio edition).
Roth's Route To
Screen Printing
Roth's, interest in human rights and other charitable causes arose before he became a screen printer-a career he could never have predicted for himself. After what Roth calls a "sheltered" childhood living in various Connecticut cities with his father (a loan officer) and mother (a computer programmer) Roth formed strong political opinions during the Vietnam War. Much later in life, when his daughter Hope was born, Roth became even more serious about supporting charity organizations; he felt compelled to "make the world a better place" for his children (Today, his daughters-Hope, age 20, and identical twins Christina and Allison, age 17-are all activists in their spare time. Hope sells for Mirror Image, and all three girls have worked for their dad at one time or another.

Roth's work experience after high school couldn't have been more varied He graduated from Colgate University with undergraduate degrees in philosophy and religion During college, he worked at a furniture factory in Norway, on a farm on an island in a Norwegian fjord, and as a landscaper and professional basketball player in Switzerland.

After college, Roth attended Harvard Divinity School, although he was not religiously devout. "I thought I might want to teach or do social work," says Roth. "I'm a Quaker, and they don't even have ministers."

He stayed at the school for one year, during which he began working as a counselor at a heroin treatment center in Boston. No longer interested in academia, Roth took a full-time job at the heroin clinic. When the clinic lost government funding and closed, Roth turned to work as a general contractor until a joint disease prevented him from doing physical labor. By then he had already begun his basement screen printing business. Like many other decorators, he had stumbled upon anew career.

The Artist's Way
During his many work experiences, Roth became keenly aware of worker safety issues and the importance of employee morale. Beginning with his first employee, Roth insisted on a union shop. He gives three-day weekends, brings his dog to work, and cultivates what some might describe as an artistic counterculture. Many of his employees also work as sculptors, painters, musicians, illustrators, or writers. The atmosphere is extremely casual but fast paced. Roth, who has a ponytail and almost always wears a T-shirt, has advertised job openings that read "piercings and tattoos appreciated but not required:

"We care that people get their work done, not what they look like," Roth declares. "If someone's only comfortable wearing a suit, they're gonna fee! funny around here. If you see me in a suit, it means it's your funeral-you don't want to see me in a suit."

The company also throws a few raucous parties per year that include loud music, dancing on the dryers, and other fun. Roth reports that the less-stringent dress code, open-minded mentality, and relaxed schedule increase productivity and improve morale because employees have time to pursue their artistic endeavors. "I don't have any pretense that screen printing is the most important thing in anyone's life," says Roth "Family, art, and things like that are much more important."

Roth himself has numerous interests outside of work and humanitarian efforts. "I don't sleep much and I don't own a TV," he says. "But I play a lot of sports-basketball, street hockey, softball, and touch football." He also has spent leisure time collaborating with friends on artistic projects, including a poetry book called The Haiko Year and several documentary films.

Although Roth doesn't consider himself an artist, he is creative in his approach to problem solving, engineering, and the management aspects of his business, which he enjoys most. "I think I have an artistic sensibility," he says. "Artists like me because I usually understand what they are trying to do."

As a result of his unconventional management style, Roth has on usually high employee retention for the decorated apparel industry many of his workers have been with him for more than a decade. Last year when Mirror Image moved from Cambridge, Mass., to Pawtucket, R.I., 17 out of 23 employees moved with the company.

"I really care about the welfare of my employees. I have no business without them," says Roth. "We do all the work together." He is modest and quick to credit others with the company's success, including general manager Sue Hagan, production manager Aaron Neubauer, and art department manager Judy Winters.

Humble Beginnings
Roth's devoted employees also support the company's many charitable efforts, and they keep the shop running efficiently when Roth is away-very efficiently in fact. But the Mirror Image production system was not developed overnight. Roth's first job was in 1974 when he printed 12 shirts that read "Fed on Zinke's corn" for a farm stand near his home in Konkapot, Mass. "I didn't even know there was such thing as a press," Roth recalls. "I made my own wooden frames. I made a rig with a pie plate and a 150-watt bulb and hand-made screens. Those were 45-minute exposures."

Within a few years, Roth began printing Ken Brown's whimsical cartoons and selling those and other T-shirts at small boutiques in Nantucket. He then printed shirts through a partnership with a project in Somerville, Mass., that trained juvenile delinquents for jobs, including screen printing.

Eventually the program lost funding, so Roth purchased the equipment from the youth program and expanded that shop with his first electric dryer. Mirror Image moved to Cambridge, Mass., one year after it incorporated. With help from one of the early employees, Colin Cheer, the company become more sophisticated in its printing processes.

"We figured out simulated process on our own," says Roth, careful to credit Cheer with the main technical aspects. "We were on a level with some really big companies. When we went to our first SGIA show, people looked at Colin, who looked sort of like a troll, and me, a hippie-looking guy, and wondered who we were. Then when we took out our samples they would begin to talk seriously to us."

Now Mirror Image produces average runs of 950 pieces and can print 1,050 shirts per hour. "We are getting away from small print runs," he reports. "We really like to do 5,000 to 10,000."

In the future, Roth hopes to double his sales to $5 million and increase staff size to as many as 40 employees. "My goal is to make more money so my employees can get paid better and so we can do more for the community. I don't really care about being rich," he says. "I know a lot of unhappy rich people."

Meanwhile, the exceptional productivity rate allows Roth more time to consult for other companies, write for industry publications, and devote himself to the causes he cares about.

The phrase "Incite Hope" decorates one of many T-shirts Mirror Image prints for Amnesty International, but those words also describe what Roth sets out to do each and every day.