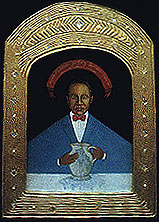 Leslie Straub is one of several artists who is donating original art, which will be printed on thousands of shirts during the SGIA show and sold for $5 each. Designs will focus on regional musicians and all proceeds will benefit the New Orleans Musician's Clinic.
Historic New Orleans
Hosts SGIA 2000
Educational seminars and Golden Image Awards highlight
the industry's 52nd annual technology show.
Thousands of screen printers will pound the Morial Convention Center floor Nov. 1-4, examining the industry's latest technology, sizing up the competition and attending a wide range of educational seminars during Screenprinting & Graphic Imaging Association Intl.'s 52nd annual technology Convention and Exposition in New Orleans. More than 450 companies, occupying 2,000-plus booths, will be exhibiting.
With 65 educational seminars, textile and graphic printers will have plenty of opportunities to learn how to improve techniques and better their businesses. Seminars will cover printing index color on T-shirts, process color separations, the future of screen making, pricing textile screen printing, and basic dark garment printing.
Scott Fresener, founder, The U.S. Screen Printing Institute, will conduct three seminars during the four-day event, including "Photoshop 5.5: Tips and Tricks." Other program speakers include Rick Davis, process manager, Levi Strauss & Co., and Vince Cahill, CEO, The Colorworks.
Stop by the MHM booth to see a production screen printing operation in action and purchase a New Orleans T-shirt for $5. Shirts will be sold for $5 each with all proceeds benefiting the New Orleans Musicians' Clinic.
Hanes is donating the T-shirts; Rutland is supplying the inks; Stretch Designs is donating the screens; Majestech Corp. the squeegees; and Kiwo the emulsion.
The 21st annual Golden Image Awards will be on display and feature as many as 1,500 samples, representing 44 categories, by SGIA members from around the world.
"Golden Image Awards are the industry's Emmys or Oscars for companies seeking to achieve excellence in printing production," says competition coordinator Alan Anderson, SGIA vice president of education and management services. "Winners gain international recognition for their accomplishments, and the awards build company pride and employee morale." Entries are being judged Oct. 31 and remain on display throughout the convention.
Other highlights include the seminar, "get Off Your Assets: How to Unleash the Power of Your Organization," presented by Desi Williamson, president, Impact! The seminar is free to attendees who register online before Oct. 6. "The number of registrations coming in over the Web increases every year," says Bruce H. Joffe, SGIA's director of communications. "This year it has almost doubled."
Full registration for the Convention and Expo is $357 for members and $435 for nonmembers before Oct. 6. Onsite registration is $392 for members and $470 for nonmembers.
Prior to the convention, early attendees can compete in the SGIA 2000 Golf Classic, featuring prizes and gifts valued at more than $80,000. The Classic will begin with an 8:30 a.m. shotgun start at the Eastover Country Club on Tuesday, Oct. 31 The entry fee is $120 for members and $130 for nonmembers, which includes the green fee, one-half cart, prize fund contribution, transportation to and from the hotel, lunch, and access to the refreshment carts and the Caddy Shack Awards Party immediatley following the event.
Political analyst Charles E. Cook Jr. is scheduled to discuss the presidential race, less than a week before election day, at the keynote luncheon on Wednesday, Nov. 1. Jazz clarinetist Pete Fountain will perform during the Mardi Gras Extravaganza on Friday, Nov. 3.