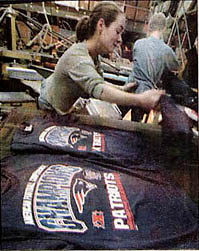 Susan Hagen lays out Ne England Patriots AFC Championship t-shirts at the Mirror Image print shop in Cambridge, Mass., Monday.
Printers go to OT to make Pats t-shirts
By ROBIN ESTRIN
Associated Press


CAMBRIDGE, Mass. - As soon as the Patriots clinched the conference titles, Rick Roth fired up his printing presses.
Thousands of navy blue T-shirts and sweatshirts proclaiming New England's team the AFC champs sat in boxes Monday morning waiting to be picked up and taken to stores. They were created overnight by Rick and his workers in the printing equivalent of a two-minute drill.
"It's not normally a sweatshop but people were sweating this time," he said.
Mirror Image printing , owned by Rick Roth, was one of several area companies lined up by the NFL's official licensers before Sunday's big game.
If the Jacksonville Jaguars had won, Roth and his crew of about 15 would have gone home. "We started printing as soon as the fame was over," a tired but excited said early this morning.Lee Sport, which owns the licenses to sell official NFL merchandise, began shipping the T-shirts at 4 a.m. today so they would be on store shelves later this morning.
Greg Soussloff, vice president of Lee Sport, got on a plane at 6 p.m. sunday in Tampa, where the company is based, to head to Massachusetts to keep an eye on the printing.
He said tens of thousands of shirts and sweatshirts would be produced by Roth and his crew. They will be sold at Filene's, Sears and other area stores.
The crew of about 15 people worked in shirts all night.
"We'll start printing as soon as the game is over," Roth said.