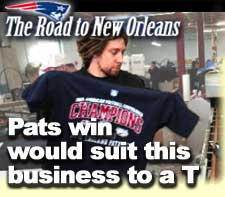 JOURNAL PHOTO/FREIDA SQUIRES
HOT OF THE PRESS: Matt Height shows a freshly screened T-shirt proclaiming the Patriots AFC Champions.
---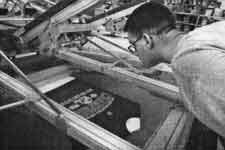 JOURNAL PHOTO/FREIDA SQUIRES
Brian Lessard, of East Providence, a silk-screen printer at Mirror Image, in Pawtucket, checks yesterday on the red, white and blue ink of a T-shirt declaring the New England Patriots the AFC champions.
BY ANDREA L. STAPE
JOURNAL STAFF WRITER

Sunday night, Rick Roth hopes he'll get stuck at work.

The last time Roth had a contract for printing Super Bowl T-shirts, he ended up going home early.

That was in January 1997. Roth, owner of Mirror Image in Pawtucket, had just watched Green Bay Packer Desmond Howard return a third-quarter kickoff for a 99-yard touchdown. Roth sent his employees home, knowing there was no point in hanging around.

The New England Patriots lost Super Bowl XXXI to the Packers, 35-21. The next day, Mirror Image shipped boxes filled with thousands of blank T-shirts back to the manufacturer.

Again this year, the company stands ready to print T-shirts for the Super Bowl champion.

If the Patriots win Super Bowl XXXVI, Roth and his employees will work through the night printing thousands of championship T-shirts -- and making money on each one that rolls off the line.

If they lose, Roth is out a couple thousand dollars -- he's only compensated slightly for the ink Mirror Image bought and the printing templates it created declaring New England the Super Bowl victors.

Roth is a businessman, but Sunday night the most he can do is pray.

"It's very much like a gambling thing. We're doing all this and maybe nothing will happen. It's very strange preparation," said Roth, who employs about 25 workers at his Pawtucket manufacturing plant.

"It's not the end of the world [if they lose]," he said. "But in the winter, in New England, it's a nice boost."

Roth declined to say how much he makes on each T-shirt. But for a company that prints 1.2 million T-shirts and has $2.5 million in sales annually, it is "one of our bigger contracts," he said.

Mirror Image has already seen a bump in this year's revenue -- the company's presses were running from 4:30 on Sunday evening to 11:30 yesterday morning, printing Patriots AFC Championship T-shirts. Trucks started rolling up to the loading docks around 4 a.m. to pick up the shirts -- the same one Drew Bledsoe was wearing on the field after the game -- and take them to Bob's Stores, Sears and JC Penney. They sell for about $20 each.

Although Mirror Image's employees started preparing for the AFC Championship game last Tuesday, there was no certainty they would be at work Sunday. Only a small number of T-shirts are printed for both teams and stashed in the locker rooms. None of the shirts earmarked for consumers are printed until the game is over.

"The New Englanders that work here -- I think their hearts are scarred by the Red Sox -- even with two minutes left I couldn't get them to come down to the presses," Roth said.

But waiting is the nature of the business.

It all starts with large clothing manufacturers, such as Canton, Mass.-based Reebok International Ltd. and Tampa, Fla.-based VF Imagewear, which buy the rights to print team logos on T-shirts, hats and other clothing from the National Football League.

The manufacturers then wait for the playoffs. Once the teams are determined, the license holders approach printers. For example, VF Imagewear -- which has been working with the NFL since 1986 and signed a 5-year licensing extension this year -- lined up printers in Missouri, New England, Philadelphia and Pittsburgh for last weekend's games. It asked printers, such as Mirror Image, to agree to print shirts if their local team won the championship game.

Then VF Imagewear and Reebok take the same type of orders from retailers. Both companies have the rights to mass produce the shirts worn by the winning team in the locker room after the game. Reebok sells to sporting goods stores and higher-end department stores such as Filene's. VF Imagewear's shirts are sent to midtier stores such as JC Penney.

The week before the big games, the blank shirts are shipped. Printers make the screens for the printing press -- and everyone waits.

"It requires planning 19 weeks ahead of time to ship division champion, conference championship, and [shirts for] both teams in the Super Bowl," said Ed Doran, president of VF Imagewear. "For every team that's left in the playoff hunt you have to have the artwork done, and make the film for every type of T-shirt for each of the teams."

It's a ton of preparation for something that might not happen, but the waiting paid off for Mirror Image this past weekend. Now the company is getting ready to wait again. Artwork for the Super Bowl shirts is scheduled to arrive today.

"All the Super Bowl T-shirts will arrive on Wednesday -- and we'll start all over again," Roth said.

"St. Louis is a nice town. But I still hope we win."