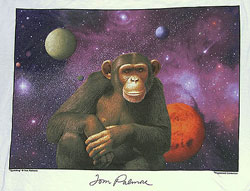 Mirror-Image fund raiser
Prints to Save Chimps

LONG BEACH, Calif. - At the recent ISS show here, Mirror Image president Rick Roth pulled off yet another successful fundraiser. with Mirror Image, MHM, and Hanes Printables as sponsors, Roth and crew printed shirts in the MHM exhibit - with the reproduction of Tom Palmore's painting "Earthling," as shown here - and offered them up in exchange for $5 donations to the Jane Goodall Institute. In all, $1,540 was raised at the show, with many attendees taking along institute borchures with the expressed intention of sending additional donations.

According to this brochure, the population of chimpanzees in the wild has dwindled from more than one million to fewer than 200,000 over the last century. Among other significant work toward the preservation of this unique endangered species, the institute has established a Chimpanzee Gaurdian program that allows benefactors to "sponsor" individual chimps, the funds going toward the institute's work in general. More information may be obtained by visiting www.janegoodall.org.