Pawtucket, R.I. Monday, March 27, 2000

Owner of Mirror Image
starts chapter of
Amnesty International
in Pawtucket

By WIIIAM HAMILTON
Times staff writer
PAWTUCKET-Businessman Rick Roth's screen-printing business was doing well enough a few years ago that he figured he could afford to do a good deed or two.
So the owner of Mirror Image on Exchange Street attended an Amnesty International meeting in Massachusetts, figuring he'd write a few letters for the human rights advocacy group.
Years later, Roth is not only a coordinator of an Amnesty International chapter outside boston; he's starting a chapter here in Pawtucket.
And he's got help. Pawtucket resident Henrietta White-Holder and Carla Dias have joined forces with Roth to assemble the first meeting of Blackstone Valley Chapter of Amnesty International.
"I've been very fortunate in my life, and I want to give back something," says 29-year-old Dias, who was born in Cape Verde, was raised in Macau and graduated from Tolman High School. She just returned from a stint in the Peace Corps.
White-Holder is a Liberian native who recently obtained her U.S. citizenship.
Several students from Tolman High School are also looking into starting an Amnesty International chapter at the school.
Amnstey International has more than 1.1 million members worldwide, and they participate in various programs to stop human rights abuses and raise awareness of human rights issues.
Local groups typically write letters on behalf of individual prisoners of conscience in other countries and work against torture and the death penalty.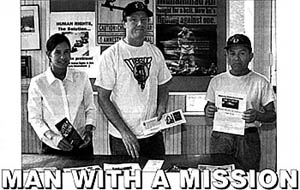 ---
From left, Mirror Image employee Carla Dias, owner Rick Roth and employee Jose Sotz sort through Amnesty International Pamphlets.
Photo: RICH DUGAS/The Times
---
"Who can't get behind what we're doing?" says Roth, "Who's for torture?"
The Blackstone Valley chapter's first meeting is scheduled for Tuesday at 6:30 at Mirror Image, 190 exchange St., and will feature a talk by a Roman Catholic priest and political exile from the former Portuguese colony of East Timor.
The public is invited.
Dias says the group will eventually be assigned a case-usually a person who has been imprisoned for political reason or for no reason at all.
For example, Roth and other Amnesty International members wrote a letter seeking an investigation into the jailing a man in India who hadn't been charged in six years and hadn't been allowed to see his family. The letters went to the Indian embassy in Washington.
Another example: According to Amnesty International, a 19-year-old Tibetan nun was arrested and tortured by the Chinese in 1990 for taking part in a peaceful pro-independence demonstration.
the group says she was sentanced to a total of 11 years in prison for "spreading counter-revolutionary propaganda."
"You get very motivated," Roth says. "Ive seen amazing things we've been able to accomplish. People don't even know they can make a difference in the world."
Roth, who moved his business from Cambridge, Mass., to Pawtucket last year, gets involved with several causes, printing T-shirts for non-profit organizations such as Amnesty International and Greenpeace.