UAW members print award-winning T-shirts and help build schools for Pakistan's child laborers
When UAW Local 1596 members go to work at Mirror Image, their Pawtucket, R.I., workplace, they not only design and print award-winning T-shirts, they also have the opportunity to work for social justice.
Mirror Image is ranked among the nation's 100 best screen printers and has garnered over 20 industry awards by producing top-quality shirt designs for customers like the Boston Museum of fine arts, New England Patriots, and Pawtucket Labor and Ethnic Heritage Festival.
But it's the work done by Mirror Image for non-profit organizations like Amnesty International, Greenpeace, homeless shelters, and Pakistani child laborers that really puts the UAW shop ahead of the pack.
Slim Cessna, one of 19 UAW members employed at Mirror Image, maintains the company website and works on the site that Mirror Image designed to help Pakistani children who are forced to weave carpets as early as age four. He likes having a job that gives him a chance to make a difference.
The website, "A School for Iqbal," is named for Iqbal Masih, a Pakistani child labor activist who was murdered at age 12. Mirror Image employees and owner Rick Roth helped some Massachusetts middle school children design the website, which celebrates Iqbal's work and has raised over $200,000 to build schools for Pakistani children.
Mirror Image also links to the Farm Aid website and to the Amnesty International website, where Roth and Mirror Image workers first learned of Jose Sotz, a Guatemalan trade union leader who was kidnapped and beaten for his labor activities.
Amnesty International helped win political asylum for Sotz after his three-year-old son was paralyzed by gun shots aimed at his father. Today Sotz and his family live in New England, and he is a UAW Local 1596 member at Mirror Image.
Steve Moreau, a new union member who's been at Mirror Image a few weeks, says he was drawn to the company because of the social justice work.
"The single most important thing that drew me is the social conscience of the workplace," said Moreau, whose job includes working with union customers. "I was enthralled coming here from corporate America."
"It's a very unique situation," says Dave O'Rourke, who's worked at Mirror Image for six years and is the former shop steward. "I hope other UAW employers can learn from it. It's a great idea, to give people a chance to do social justice work on the job." O'Rourke was raised in a UAW-Ford family.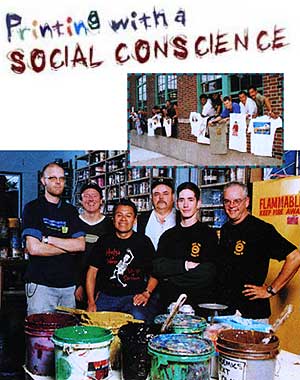 Slim Cessna, Rick Roth, Jose Sotz, Dave O'Rourke, Rick Heeman, and Steve Moreau stir paint, screen T-shirts, and work to make the world a better place. Inset: UAW Local 1596 members at Mirror Image hanging out at work.
---
Cutting-edge print technology has turned Mirror Image into a multi-million dollar business in the 13 years since it opened in Cambridge, Mass. Roth is the first to credit the workers in his shop--many of whom moved from Massachusetts to Rhode Island when more space was needed.
"My business is the people who work here," says Roth. "My goal is to have someone here who's better than me. I'm never going to be able to do what they do."
Roth also sees the value of a union contract with his employees and encouraged them to join the UAW several years back. Labor-management relations "don't have to be confrontational," he explains. A union contract works for everybody."
Shop steward Rick Heenan agrees.
"The contract provides stability and guidelines," says Heenan, who's father was in the Pipefitters union. "In the summer when there's a lot of heat and three presses running, people can get ticked off. We have to resolve those issues before they fester. We get along quite well, but it's good to have the union backing us up."
Mirror Image offers UAW members and owner Rick Roth an opportunity to create a unique workplace where labor and management work together not only to make the company a success but to make the world a better place, too.
Visit www.mirrorimage.com for more information.

-Michael Funke