More Reflections

"They (Reebok) picked B.M.M.S. out of every other school in the U.S., and I think they picked the right school because the-Broad Meadows students won't just stand there and say O.K., they will stand up and do something about it. Iqbal needs our help."
Caitlin Nichol
"I saw the long scar on his face from where he had been beaten."
Tara Pezzulo
"Change! That's a big thing. I wish I could rub a magic lamp and have a genie pop out and ask 'What is your wish?' But I know that can't come true. I can write to the Prime Minister of Pakistan and ask her to look into the situation. She, as a woman, probably understands and has felt discrimination before."
Amy Papile
"When I first heard about Iqbal, i thought it would be cool to have a Human Rights hero come to my school. And it was awesome !"
Paul Wynne
"I was amazed at all publicity, at all the cameras, reporters. I mean, there was a reporter standing right next to me."
Kim Gannon
"The most shocking part of his story was that the children get cancer from working in the carpet factories. Some of Iqbal's factory friends died working there. I wonder why the Pakistan government allows this."
Tommy Yuen
"lqbal Masih is a brave, strong in the heart kid. Now that he came here I am going to do more for human rights. I will write letters to the government to help the carpet children from Pakistan. I am going to take a stand for human rights."
Nick DiStasi
"I gave him a note, a picture, a friendship bracelet, 3 gumballs, instant hot cocoa, and some white rice. At lunch nobody was eating. Everybody was up around the table he sat at. Some people were standing on tables because they couldn't see him. I am going to write letters like most 7th graders will and try to end the slavery of children."
Jen Grogan
I When I was younger and eating steak with vegetables, Iqbal was working 14 hours a day. When I was playing, Iqbal was still working. When I was watching TV, Iqbal was working harder and harder.He is free now, but there are still 7,500,000 children in bonded labor right now in Pakistan. So when you get the chance, stop, maybe before bed, or in the hall, while watching TV or when you are sitting on the bench waiting your turn to go into the game, think some. Turn off the TV or radio and pray, hope and even later write a letter for the children of Pakistan. I am more thankful appreciative and grateful. He made me think of easy and hard things in a different way."
Richard Keefe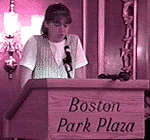 Real Audio or WAV Sound 400K
Amanda Loos speaks at the Amnesty General Meeting '95 in Boston about Iqbal. .

---
Material designed and copyrighted by

Mirror Image, Inc. and Broadmeadows Middle School
Questions or problems to report about this web site? Contact the Webmaster at webmaster@mirrorimage.com