The Patriot Ledger
Quincy students carry on hero's work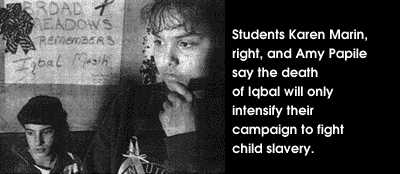 By Carol Gerwin
Photos by Fred Field
QUINCY¬At first Karen Marin couldn't believe it.. Her hero was dead?
As the news began to sink in that someone had killed the 12-year old Pakistani boy who inspired her school to fight to end child slavery, she grew sad and then just plain mad.
But Karen and her classmates at Broad Meadows Middle School said the death of Iqbal Masih will only intensify their campaign.
"We promised Iqbal we were going to try to fight all the way to the end to try to get those kids free " Karen. 14 said last night between sobs. "Even though Iqbal's not there to help us . . . we're going to try something really big now 'cause he's gone."
Iqbal who escaped slavery in a carpet factorv to become an international crusader for children's rights, was shot Sunday while riding his bike he his village of Muritke.
The young activist whose work has led to the closure of dozens of carpet-weavilig factories in his district, spoke at Broad Meadows in December while visiting Boston to receive a Reebok Human Rights Award.
Supporters believe his murder was carried out by angry members of the carpet industry who had made repeated threats to silence him.
A laborer in Iqbal's v illage was arrested in connection with the shooting but has been released. Police say they are still investigating.
In Quincy, the news spread quickly among Broad Meadows students home for spring vacation.
Several said they were especially outraged that lqbal was killed while doing something every kid should have freedom to do.
"He was just out riding his bike having fun, just like a normal kid would do," Amy Papile, 13, said. "Nobody should die like that."
The size of a 6-year-old from years of malnutrition, Iqbal had told his Quincy peers how he was chained to a carpet loom and beaten for six years. He described how other children were tortured be having their fingers placed in boiling oil and being hung upside down on a wall.
When he finally esciped two years ago, he persuaded 2,0O0 r children to join the movement against bonded labor.
The Broad Meadows students, drawn to him both as a friend and a role model, immediately took up his cause.
Since then, the school has sent out out almost 700 lettersto government leaders, including President Clinton and members of Congress. Fifty kids produced a video appeal to Pakistani Prime Minister Benazir Bhutto. Others asked dozens of area merchants to stop selling rugs made with child labor.
Unlike many other issues that temporarily capture children's attention, interest in Iqbal never faded, teacher Ron Adams said.
Just last week, his class was thrilled to learn that a Swedish drug company was donating a year's worth of expensive hormone treatments to help him grow. Yesterday, the day after Iqbal's burial, a Reebok official reported that the treatments showed early signs of success.
About two dozen students gathered at Broad Meadows today to mourn the young Pakistani. They held a moment of silence in a classroom, then talked with Adams and parent Barbara Papile about the boy's death. Some students made blue-and gold ribbons to wear in Iqbal's memory.
Several students yesterday said they had always feared harm would come to Iqbal, whose cause made enemies of many wealthy industrialists. Yet they admired. and even envied, his courage.
"He was so young and he was trying to make a difference, he could speak out and not be afraid," said 14 year-old Julie Miller. "I don't know if I could. I'd probably be very scared."
Others said they were furious that Pakistani officials, especially Bhutto, did nothing to protect the boy.
"They should have known something like this was going to happen," said Karen Marin, who had been planning to invite Iqbal back to the school for a human rights event next month. "They should have had people watching him at all times.... If I were in charge, I would think of that, first thing."
The students said they are already filled with ideas for ways to respond to the tragedy.
Karen, for one, said she will give a speech in his honor at the school's "A World of Difference Day" in May.
The students also plan to sign and distribute Reebok's petitions calling for an independent investigation into the shooting, write more letters to persuade Pakistani leaders to enforce their 1992 anti-child-labor laws and urge U.S. officials to ban the importation of goods made by enslaved children.
There are an estimated 7.5 million bonded child laborers in Pakistan today, and 200 million children working under exploitative conditions worldwide.
Bhutto has vowed to fight child labor but so far her government has taken only limited action.
The Quincy students hope that all the attention surrounding Iqbal's death will help ensure his work was not in vain. If his story can touch enough other people the way it touched them, they said they may actually see significant changes in their lifetime.
"Once it hits the heart," Amy Papile said, "Everybody starts noticing."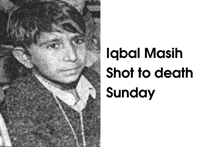 Material from the Associated Press is included in this report.



---
Material designed and copyrighted by

Mirror Image, Inc. and Broadmeadows Middle School
Questions or problems to report about this web site? Contact the Webmaster at webmaster@mirrorimage.com