The Patriot Ledger, Sat./Sun., Dec. 3/4, 1994
BOY DETAILS HIS LIFE OF SLAVERY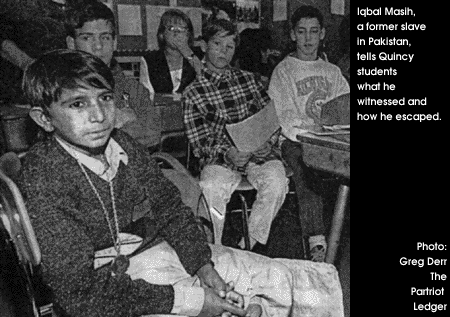 by Carol Gerwin
Quincy - Their eyes wide with horror, the 12-year-olds let out a collective gasp.
The Broad Meadows Middle School students didn't want to believe what the tiny boy from Pakistan was telling them: While they spent childhood going to school and playing with friends, he was chained to a loom in a factory and forced to work for six years making carpets.
In less than a hour Friday, Iqbal Masih, who escaped slavery and became a human rights activist, inspired the youngsters to join his cause. They pledged to launch a letter-writing campaign urging the end of forced child labor and vowed never to buy a carpet exported from his country.
"I wish I could rub a magic lamp and make it ago away," seventh-grader Amy Papile said after hearing of the plight of millions of Pakistani children. "(But) we're on to them, and we're going to do something."
Iqbal, also 12, is in Boston this week to receive a Reebok Human Rights Award for his willingness to speak out against child slavery, which has helped free may bonded children. The youngest Reebok winner ever, he will be presented with a "Youth in Action" award at a ceremony Wednesday at Northeastern University.
Although his is not meeting with any other American student group, he decided to speak at Broad Meadows because of the school's ongoing efforts to preserve human rights around the world, said language arts teacher Ron Adams, who helped organize the visit.
In 1990, students worked with Amnesty International to free a Yugoslavian teen imprisoned for organizing a march for bilingual education at her high school. They have also petitioned to include the right to a clean environment in the United Nations' Declaration of Human Rights and wrote letters to Lithuanian children offering advice on how to frame the newly independent nation's constitution.
Adams said he and social studies teacher Donna Willoughby wanted their students to meet Iqbal to show them that a single person, even a young child, can make a difference in the fight to end injustice.
"It's a reminder that there is hope, even when they feel alone or powerless, someone will hear their voice," Adams said.
The 60 students in sixth, seventh- and eighth-grade who met Iqbal clearly got the message.
They enthusiastically adopted the elimination of child slave labor in Pakistan as their next mission and Iqbal as their new friend.
About 20 student leaders plan to attend the Reebok award ceremony and promised to bring Iqbal piles of letters from children at school to Prime Minister Benazir Bhutto. They also said they would write to president Clinton and their congressional representatives and talked of organizing boycotts of Pakistani products.
Although indentured servitude became illegal after the Pakistani Parliament passed the abolition of bonded labour act in 1992, the laws against enslaving children are rarely enforced because of the influence of wealthy industrialists.
The International Labor Organization estimates there are 20 million bonded laborers in Pakistan today and at least 7.5 million are children. More than 500,000 children work in the carpet industry.
His growth stunted from years of malnutrition, Iqbal spoke to the Broad Meadows students in the voice and body of a child much younger that his 12 years.
Through a translator, he explained how his impoverished parents sold him to the owner of a carpet factory near the town of Shekhupura, north of Lahore, when he was just 4 years old.
He was forced to work from 4 a.m. to 8 p.m. seven days a week and could return home only at night to eat and sleep.
Taking a heavy, rusted tool called a "punja" from a plastic bag at his feet, Iqbal showed the children the type of instrument used to beat him and the other laborers daily.
Iqbal said he was hit on the head and back and pointed to a scar a half-inch long above his left eyebrow.
The students' mouths gaped as he described other torture the children suffered, such as having their fingers placed in boiling oil and being hung upside down on a wall.
When a student asked why his parents didn't try to save him, Iqbal explained that the factory owner, who was protected by local police, routinely had families that complained beaten and harassed.
Iqbal finally escaped after the law changed in 1992 by running away to attend a rally organized by the Bonded Labour Liberation Front.
"It educated them and told them freedom is a right, and they don't have to live there like than," Boston University graduate student Khawaja Aminulazam said, translating Iqbal's words from his native Urdu.
Then 10, Iqbal was moved to give an impromptu speech that was printed in the local papers, and afterward he refused to return to his owner. Instead, he gathered together 2,000 children to join the movement and has been fighting for freedom ever since.
Now enrolled in a school run by the liberation organization, Iqbal lives with his mother in Lahore and hopes to become a lawyer or government leader when he grows up.
He came to Quincy with representatives of Reebok's human rights division and Ehsan Ulah Khan, the president of the liberation group.
Iqbal appealed to the students to stage demonstrations and persuade the U.S. government to pressure the Pakistani government to pass a law requiring that all children be educated.
"They should have pens in their hands, not these tools," he said.
After his talk, students presented Iqbal with a gold medal commemorating 200 years of freedom in the United States, a copy of the U.S. Constitution and a Broad Meadows baseball cap.
Later, when he joined them for lunch in the school cafeteria, several dozen kids lined up to shake his hand and give him personal gifts, ranging from hackey-sack to a key chain with the letter "I".
In interviews, several students said they were shocked and angered by Iqbal's' experiences but move to action by his courage.
Amanda Loos, 13, said her human rights heroes used to be President John F. Kennedy and Martin Luther King Jr., "but now it's Iqbal."
She said she was so upset by what she heard she will try to convince Congress to mail letters to every U.S. household informing people about the extent of child slavery and suggesting ways to help stop it.
"I really believe we can make a difference," she said.



---
Material designed and copyrighted by

Mirror Image, Inc. and Broadmeadows Middle School
Questions or problems to report about this web site? Contact the Webmaster at webmaster@mirrorimage.com