The Patriot Ledger, July, 1995
Quincy students connect rights campaign to rock concert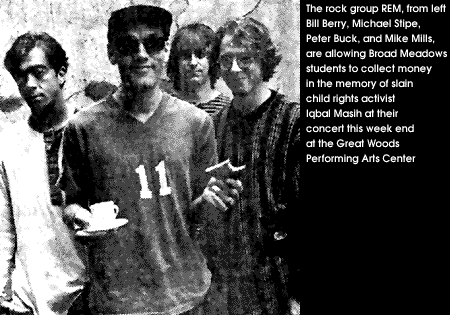 By Rebecca Shuffain
The Patriot Ledger
QUINCY, MA - Take a class of kids with a cause, mix in a computer network and a rock band, and you have the ingredients for making one child's dream come alive.
A group of students from the Broad Meadows Middle School has been raising money to build a school in Pakistan in memory of 12-yearold Iqbal Masih, a human rights crusader murdered in his village earlier this year.
At the invitation of the band R.E.M., the students will bet up an information table tonight through Sunday at the Great Woods Performing Arts Center, where the band is performing three sold-out concerts. Each night the students will distribute information about the project and collect donations.
Thirteen-year-old Amy Papile has high hopes for the outcome.
"I hope it will get more people to take action and write letters and speak out themselves," she said. "I hope people will donate money and tell their colleagues to donate, too"
At age 4, Iqbal Masih was sold into slavery by his parents for $12. For years he worked as a carpet laborer, then he rebelled and became a leader in the fight against Child slavery.
In December, he won the Reebok Human Rights Award for speaking out against child labor. The Quincy students met Iqbal when he visited their school.
It was Iqbal's dream that all children could attend school and not have to work. After he was murdered during a dispute in his hometown of Muritke, Pakistan the Broad Meadows Middle School students decided they would raise money to build a school in Muritke that would bear Iqbal's name.
For weeks, they have been raising money using computer E-mail, asking for $12 donations - symbolic of his age and his selling price.
On Monday, with the help of a Cambridge chapter of Amnesty International, the students joined the World Wide Web computer network.
During a conversation between the students and the Amnesty members, this weekend's R.E.M. concerts were mentioned.
"One of the Amnesty members asked if they'd written to R.E.M. because they are very active" in human rights, said Broad Meadows teacher Ron Adams. "The kids were fascinated by that possibility."
Using the computer network, the Amnesty members were able to find out the name of the hotel where the band was staying.
Twelve students wrote business letters to singer Michael Stipe informing him of their project and asking if he could help.
"They selected Michael Stipe because he is the singer and he has attended the Reebok Human Rights Awards for five years in a row," Adams said. "We knew he had an Interest in human rights and had met Iqbal" at the wards.
The students had a photograph of Stipe with his arm around Iqbal at the ceremony. They attached it to their letters and faxed them to the hotel.
Adams received a call yesterday telling him the students were invited by R.E.M. to set up a table for all three nights of the band's Great Woods appearance.
"We were kind of shocked that our letters found R.E.M., and R.E.M. found our letters intriguing enough to satisfy our request," Adams said.
The two student leaders of the project had different reactions to the news.
"At first I was like so what, because I didn't really know who they were," said Amy Papile. "As it got later and later and I found out, I was like, wow, these rock stars actually listened to kids."
Amanda Loos, 13, knew more about R.E.M. and Stipe. "It didn't really amaze me because I knew that he was a faithful tender to human rights," Loos said. "But it is really neat that he's helping children to achieve their goal."
Loos thought up the name for the World Wide Web program: "A bullet cannot kill a dream." E "I heard a quote somewhere and it stuck in my head," Loos said. "Since a bullet killed Iqbal and it didn't kill his dream, I figured a bullet can't kill a dream."



---
Material designed and copyrighted by

Mirror Image, Inc. and Broadmeadows Middle School
Questions or problems to report about this web site? Contact the Webmaster at webmaster@mirrorimage.com