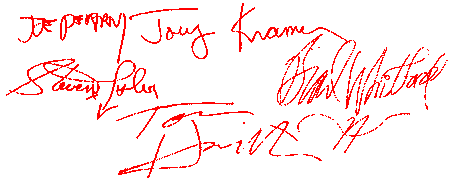 To the students of Broad Meadows Middle School,
As artists and as Americans we have always supported freedom of speech and freedom of expression. It is written into our constitution. So it is all the more shocking when we realise that here in the nineties there are still people struggling to achieve the most basic freedoms. Iqubal Masih's fight against child slavery is even more remarkable because he was only a child himself, and if we are to make any sense of his tragic murder, we must make sure that his short life is not forgotten.
His greatest wish was for a school in his hometown. We believe that the only way to enlighten is to educate, and, if anything can change the traditions of unbearable poverty that led this little boy to be sold for $12 at the age of four, it will start with proper schooling.
So we would like to state our whole-hearted support for Broad Meadows Middle School and their web site, and hope that tomorrow's adults can use today's technology to overturn the darker elements of their inherited past.
From the Members of Aerosmith:
Joe Perry
Joey Kramer
Steve Tyler
Brad Whitford
Tom Hamilton


---
Material designed and copyrighted by

Mirror Image, Inc. and Broadmeadows Middle School
Questions or problems to report about this web site? Contact the Webmaster at webmaster@mirrorimage.com