The Kids Campaign to Build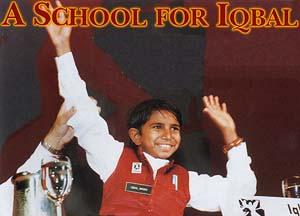 Web Hosting by Mirror Image Inc.
--

December 2009 --
A Bullet Can't Kill A Dream

Iqbal was sold into Child bonded labor at 4 years of age for the equivalent of $12
He escaped at age 10 and began to speak out against child slavery and for freedom and schools for all Pakistani children.
Iqbal won the Reebok Human Rights Youth in Action Award 1994
Easter Sunday, 1995, he was murdered.
In response, students at Broadmeadow Middle School formed this campaign in order to help fight for Iqbal's Dream

---
This page created & sponsored by:
Mirror Image, Inc. of Cambridge, MA,
and many kind

volunteers.


---
Material designed and copyrighted by

Mirror Image, Inc. and Broadmeadows Middle School
Questions or problems to report about this web site? Contact the Webmaster at webmaster@mirrorimage.com